23. Mai 2009
6
23
/

05
/

Mai
/

2009
08:33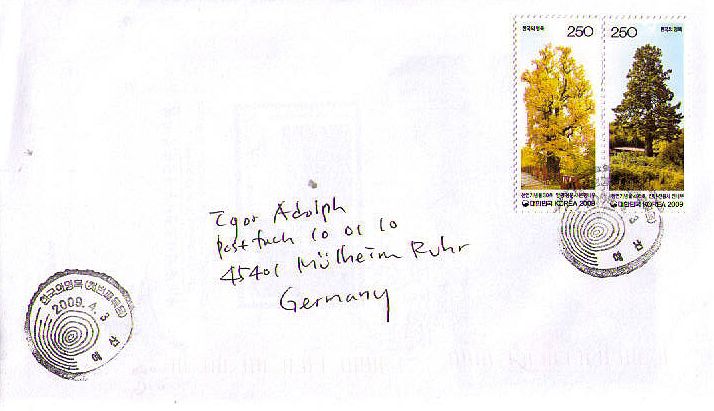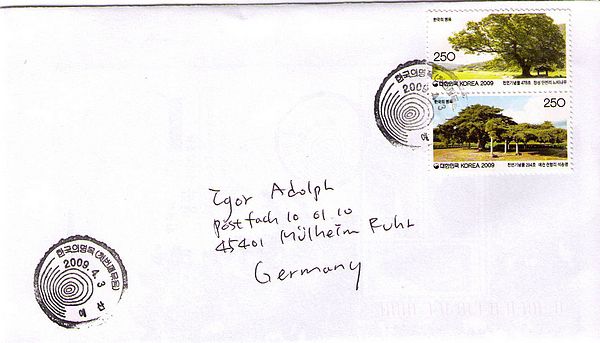 Old & Historic Trees of Korea
Date of Issue: 3 April 2009 - Denominations: 250 won

Fir tree in Cheonhwangsa temple, Jinan

Boasting the largest size among fir trees in our country, the 400 year-old fir tree in Cheonhwangsa Temple, Jinan is 35m tall and 5.2m in circumference. Planted on a mountainside south of Cheonhwangsa Temple in wishing for the prosperity of the temple, the majesty of this tree overwhelms its surroundings.

Zelkova tree, Danjeon-ri, Jangseong

Displaying the elegance of the semicircle-shaped tree, the zelkova tree in Danjeon-ri, which is 10.5m in circumference, is the thickest among all zelkova trees documented so far. Called "Janggun Namu (a general's tree)," this tree is regarded as a divine tree because it was planted to commemorate a general who died defending his nation during the Japanese invasion of Korea.

Seoksongnyeong, Cheonhyang-ri, Yecheon

With thick side branches spreading out as far as 30m, this tree is approximately 600 years old. A resident of the village who loved this tree named it Seoksongnyeong and bequeathed his land, making it one of the most rare trees in the world to possess its own property.

Gingko tree, Yongmunsa temple, Yangpyeong

As the tallest and oldest gingko tree in our country, this tree is 41m tall and is estimated to be 1,100 years old. Legend says that this tree has sent warnings by crying out whenever Korea has faced a great crisis. This tree was even granted an official rank during the Joseon Dynasty.